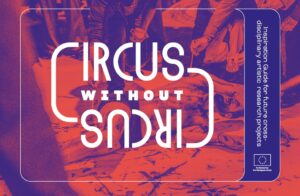 Download the Inspriation Guide
Circus Without Circus was a European project (2020-2023) organized by Circuscentrum (BE – project leader), Le Manège de Reims (FR), Room 100 – Positive Force (HR) and Metropolis – Københavns Internationale Teater (DK). Associated partners are Nona Arts Centre (BE), Césaré (FR), Arts Academy Split (HR) and Dynamo Workspace (DK). The project is co-funded by the Creative Europe programme of the European Union.
Questions about the project? Please contact Maarten Verhelst via maarten[at]circuscentrum.be.