Circus artist Elise Bjerkelund Reine and contemporary dancer Natacha Kierbel worked together in Split (HR) from 5-18 April 2021.
Elise is a circus artist from Norway living in Denmark. Eight years ago, she graduated from the prestigious French circus academy CNAC on the swinging trapeze. In last year's lockdown, when it was very difficult to train aerials, she turned to the study of contortion, dance and movement.
Natacha is a French contemporary dancer. In movement research, Natacha works with images and mental projections to transform her body, to explore different qualities and physicalities.
During their twelve-day residency in Split, Elise and Natacha explored through a choreographic process various materials – clay, plaster, cardboard boxes, duct tape … – their possibilities, boundaries and metaphorical images that may appear.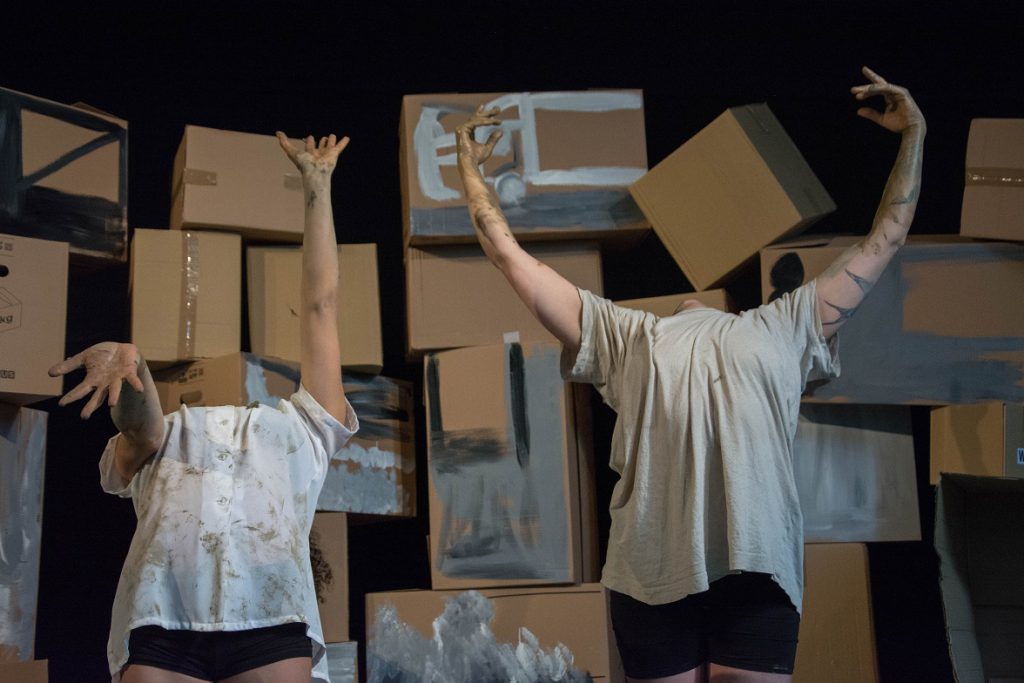 Starting point
First meeting with Elise before the residency; we both have the desire to mix circus and dance with some materials that will give a visual and concrete dimension in our research. Elise suggests to work with clay and materials that will modify our bodies. I suggest to work with cardboard boxes and create a universe out of it. We plan to experiment on these two ideas, try to combine them and see how these materials affect our way of moving, of balancing. We were looking to see how materials could transform our bodies and how actions could lead us to move and behave differently.
Beginning of the residency
On the first day we arrived in the space, we already had clay and a big tarpaulin that we spread on the floor. We bring back some second hand cardboards, the neighbor that works next door in Hala 100 happens to have a lot of cardboards and gives us a few, we start to create our space. We get some bigger cardboards in the next days to end the residency with more or less 70 cardboards.

We paint roughly most of them, some are abstract, some are figurative. As we move them in the space it looks like a constantly changing comic book.
Organisation of the research
There is already a list of images and actions with cardboards and clay that we imagined and wanted to explore within the residency.

We had time to dive in many materials such as the « cardboard ocean », where we found a way to step on the empty boxes, move on them, build a second floor…  As well there are some ideas and materials we found but we didn't get enough time to go deep in these propositions.

It was a bit frustrating but as well very exciting to feel that we could go much further in this research and feel that we explored only a chunk of what this cardboard universe could be and how far it could go.
Reflections on our research with cardboard
Our desire was to create a universe of cardboard, where we could dive like a huge playground. An absurd world came up from it, in which the profusion of cardboard is organized in constructions, falls, reconstructions without ever achieving stability.

This research is an interrogation around the action of building, fails, constant change, rebuilding; like an infinite cycle were the arrival point doesn't exist.

Cardboard boxes allow to create a space that we constantly transform. They turn into the floor, they stand in columns and towers reaching the ceiling, they scattered like debris, they transform or hide our bodies. Like a big playground, it allowed us to climb on it, to move them around, to disappear under a landslide of cardboard, to bring up creatures made of cardboard and body parts.

We could resume it as: attempts to create order and stability in a chaotic tide. Ephemeral situations where we build between balance and fragility with the excitement pushing us forward until the balance breaks and everything falls apart.
Clay
For practical reasons and lack of time we concentrated the research with clay around one image that we developed. We found the inspiration in the « Walking man » from Alberto Giacometti; a person caught in its tracks with his feet stuck in the floor.
On the first experiment we built two mountains of clay around our feet to get us stuck in the floor. Later we tried to join our feet together and built a single mountain around them. We realized that when we were back bending, our head was disappearing and it looked like a lady without head. We played with this image of ladies stuck in the floor and losing their heads.

For us this image was like two weeds in a space, nobody asked for it but it's just there and it grows despite everything. It's something that exist on a little piece of land, the result or the addition of thousands of micro elements, that lead these weeds to appear.

We decided to bring this dispositive in different parts of the city, in the old town, in the ruins, in the market, in front of Hala100 and in our working space.
Pictures below (c) Tea Truta
Elise: "The images are based on an idea to use the image of the feet attached in clay, rooted in the ground, explore the movement quality, and get inspired by location. We went for walks through the city to find spots that for some reason felt interesting or touched us in some way. We simply attached the feet, grounded ourselves to Split. And from that improvised different little pieces. Bringing the qualities and inspiration from the outside, we ended the day inside in Hala100, trying to re-live the different feelings and experiences from those spectacular locations in the bodies, and to kind of 'bring it to stage'. The collaboration of dance and circus inspired each other in this small research. Somehow, we ended with a lot of beautiful images of the clay experience, though we spent far more time and interest in our research with and around cardboard-boxes."

Natacha: "We didn't really find a way to link directly this research with the cardboard but it was connected as we went from the heaviness of the clay to the lightness of cardboards; playing with these two opposite qualities."
Conclusion
Natacha: "I am very happy of the research we did together, it was easy for us to match in the work. 12 days of residency gives you time to really explore ideas but it is frustrating as well because it would need more time to find the right quality for what we started to develop and bring it further. It makes me wonder how this research could be shared and not stay only something we crossed Elise and I on a 2 weeks length."